Delicious culinary delights
Enjoy good meals at the Madlener Mountain Hotel
Breakfast buffet, afternoon cake (in winter) and 5-course dinner (4 courses in summer): at the 4-star Madlener Mountain Hotel in Damüls we focus a lot on culinary indulgence. Our guests enjoying our dishes is more important to us than winning toques and awards.
Good Austrian home cooking and Vorarlberg dishes with best ingredients and prepared with an eye for detail.
Sustainable, attentively & just good
The cuisine team at the Madlener Mountain Hotel focuses on high quality and sustainability when buying and preparing the food and on outstanding service. All ingredients for the delicious dishes at the hotel in Damüls are regional and seasonal. Alpine farmer's beef comes from the local butcher, veal from the Bregenz Forest and pork from Austrian farmers as does the non-silage alpine milk. You will taste the difference: at the Hotel Madlener we only serve organic fruit and vegetables as well as cheese specialties from the Bregenz Forest.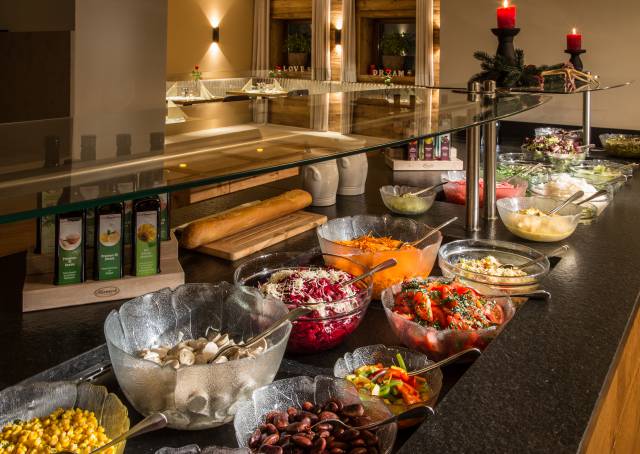 Madlener Indulgence Board in Winter
During the winter guests with half-board will enjoy great indulgence at the Hotel Madlener's restaurant from morning to night. At the rich breakfast buffet a vitamin-packed and hearty selection awaits you from 8am-10:15am. Including delicious cheese variations from the Bregenzer Forest Cheese Street dairies.
In the afternoon in winter indulge in freshly bakes cakes between 3pm and 5pm and relax with the luring smell of fresh coffee in your nose.
In the evening in winter enjoy Austrian cuisine's variety during a cosy 5-course meal (4 course meal in summer) with great wine; choose between children meals, vegetarian, meat or fish.
Special: every Sunday a gala dinner with 6 courses including a champagne welcome drink at the hotel bar awaits you.
Culinary delights in summer
During the summer enjoy your meals on the sunny hotel terrace with views over the Damüls mountains and choose your favourite meal from the varied menu at the á-la-carte restaurant.
If you choose half board for your summer holiday, you will get spoiled with a 4 course menu.
Hotel bar & wine cellar
The Madlener hotel bar is open all day long and serves as a great place to call it a day: with a glass of wine from the hotel's own wine cellar or with another beverage of your choice. Interesting conversations take place here and you will meet new people and maybe even new friends! The experienced bar team at the Madlener Mountain Hotel will strive to make you feel at home and entertained.
At the Kaminstüberl ("fireplace parlour") one can spend sociable and lovely evenings. The lounge serves as a great place for reading or just relaxing.
If you fancy a stay at the Damüls Hotel Madlener, then send us your no obligation room enquiry or book directly online and look forward to an attractive holiday offer by the Madlener family!