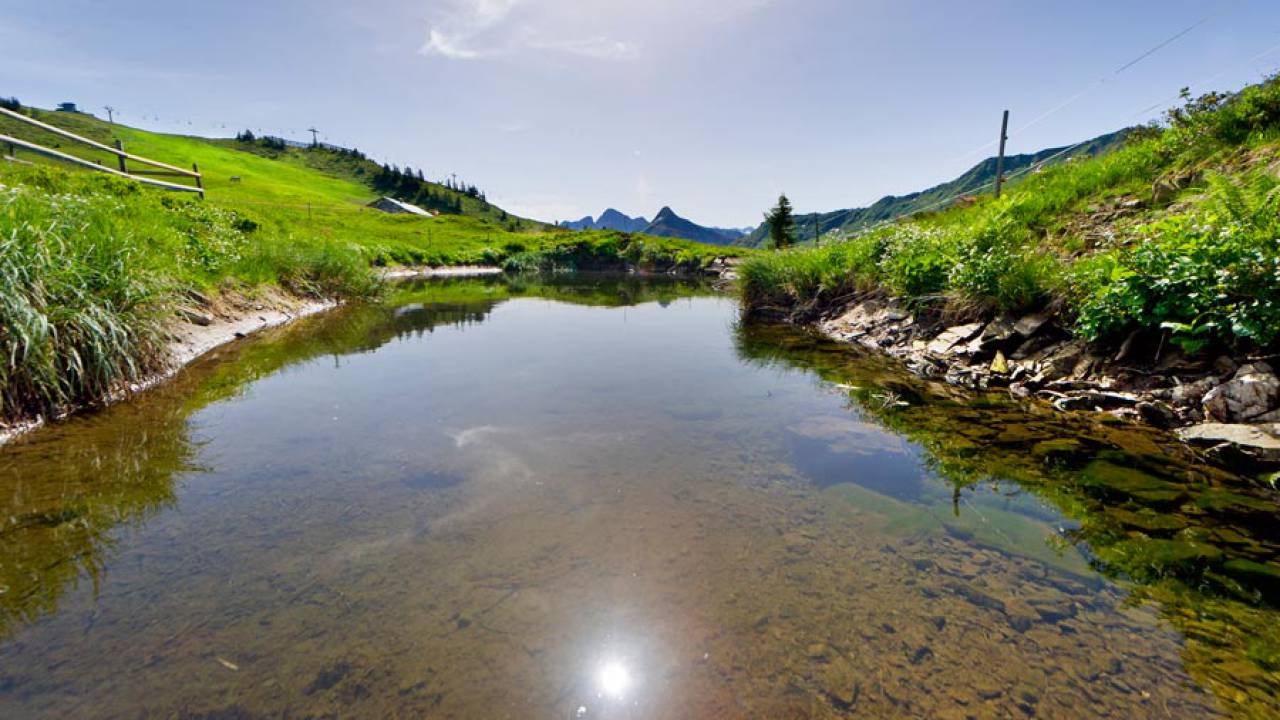 Fishing & angling in Damüls, Vorarlberg
Vorarlberg's fishing territories
The 4-star Madlener Mountnain Hotel is located directly in Krumbach in Damüls and is therefore perfect for fishing enthusiasts. The scenically appealing region between the Große Walsertal biosphere reserve, the Bregenz Forest and the Lechtal offers a great and extensive fish population.
Enjoy peace and serenity during fishing on the Austrian Alps. Give fly fishing a go or try to individually catch trouts and graylings.
Fishing in paradise
The Bregenz Forest running waters are crawling with fishes. You will find wonderful territories in the trout region around your Madlener Mountain Hotel and don't even have to get in your car. Day passes are available for all fishing territories and they are available at various offices, all you need is your guest-card.
Krumbach, Argenbach and Bregetzbach
The clear and cold Krumbach brook runs right underneath your holiday hotel in Damüls. Enjoy the peaceful atmosphere when you are angling while your family relaxes and sunbathes on the Madlener Mountain Hotel's lawn.
Fishing season lasts from 16th June to 30th September, day passes are available at the Damüls town hall with your guest-card / Bregenerwald Card. Here you will also get information about fishing limits, minimum landing size and territory borders.
Great territory variety
About 20 fishing associations are available in the Bregenz Forest / Große Walsertal holiday region. The Bregenzerache runs through various places and is perfect for a little break or fishing, for example in Schröcken, Schoppenau, Au and Schnepfau, Mellau, Bezau-Andelbuch, Egg or Kennelbach.
If you prefer fishing in stagnant waters, don't miss out on the Bezegg reservoir in Adelsbuch or visit Lake Seebachsee.
Take a look at the overview over the many fishing-grounds in Vorarlberg.
Culinary highlight: freshly caught fish from the Bregenzerache
Enjoy freshly caught and deliciously prepared trout at the Gartenwirtschaft Felder in Bersbuch or at other inns and restaurants. The Gartenwirtschaft Felder is an idyllic place with a natural swimming pond and offers mouthwatering kippered or roasted trout with homemade potato salad
sFish dinner at the Madlener Mountain Hotel
Of course the 4-star Madlener Holiday Hotel in Damüls also offers fish delicacies. Enjoy a multi-course dinner with the right wine.
If you can hardly wait to spend your summer fishing in the Bregenz Forest then send your no obligation room enquiry to Damüls today or make an Online Reservation. Your Madlener Hotel is located right on the Krumbach brook.