Snowshoe hiking in Damüls
Through deep powder snow
Explore the stunning alpine mountain world around your 4-star Madlener Mountain Hotel in Damüls on snowshoes. In the "world's snowiest village" an exploration tour away from the signposted winter hiking trails is more than rewarding.
Feel the freedom on the wide snow-covered fields, surrounded by well-known peaks like the Mittagsspitze, the Hohe Licht and the Glatthorn, while you discover true scenic gems – with a hiking guide or alone.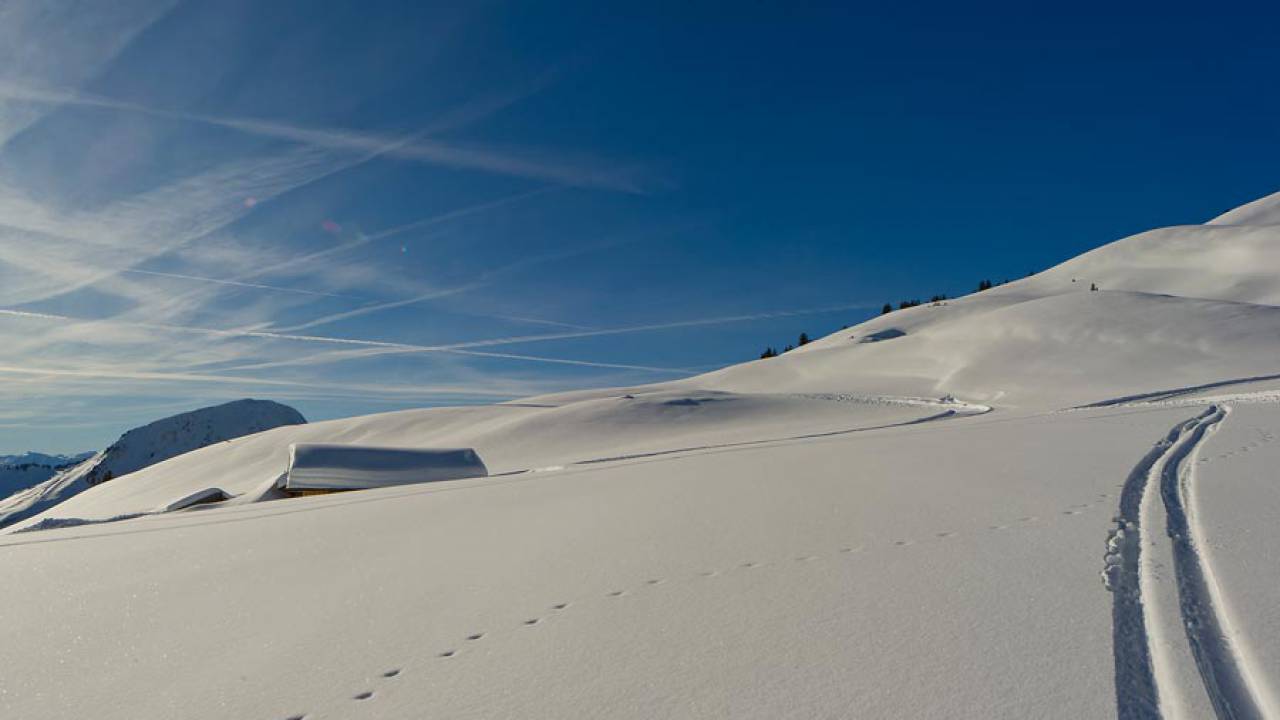 Guided snowshoe hikes around Damüls
The BERGaktiv guides accompany you on your snowshoe hikes on the Damüls mountains: 12 experienced and motivated hiking guides from Damüls and the Große Walsertal biosphere reserve will show you their homeland away from the regular trails. There is a great variety of hiking paths, e.g. the snowshoe hike through the Tiefenwald Forest.
The BERGaktiv snowshoe hiking programme offers full-day and half-day tours through the valleys around Damüls and beyond, even up to alpine altitudes.
The skiing schools in the Damüls-Mellau-Faschina ski resort also offers regular guided snowshoe hikes. The programme includes taster tours for beginners in the immediate environment, romantic and recreational hikes as well as family tours.
For more experienced snowshoe hikers with better stamina we recommend a snowshoe hikes along the Cheese Street. This hike will take about 4-5 hours and is located at 1,400m.
Deep powder snow hiking
Snowshoes allow you to experience ultimate freedom during your holiday: you can walk wherever you want to go and discover the most beautiful spots of land away from the signposted hiking paths.
Put on your snowshoes and go for a walk through the deep powder snow, the bigger surface makes it possible to walk without sinking into the snow.
Tip: Don't forget to put on the so called gaiters in order to prevent snow getting into your shoes. There is hardly anything worse than hiking with wet feet.
Through nature on your own
You can of course go on your own individual snowshoe hike. Start directly at the Madlener Mountain Hotel and drift: the whole Damüls mountain area is utterly beautiful and you can decide for yourself how long you want to walk, where and when you want to take a break and where you will take your next turn.
Snowshoes are available at the Sport Madlener sports shop in Damüls; you can also borrow snowshoes and poles at the Madlener Mountain Hotel.