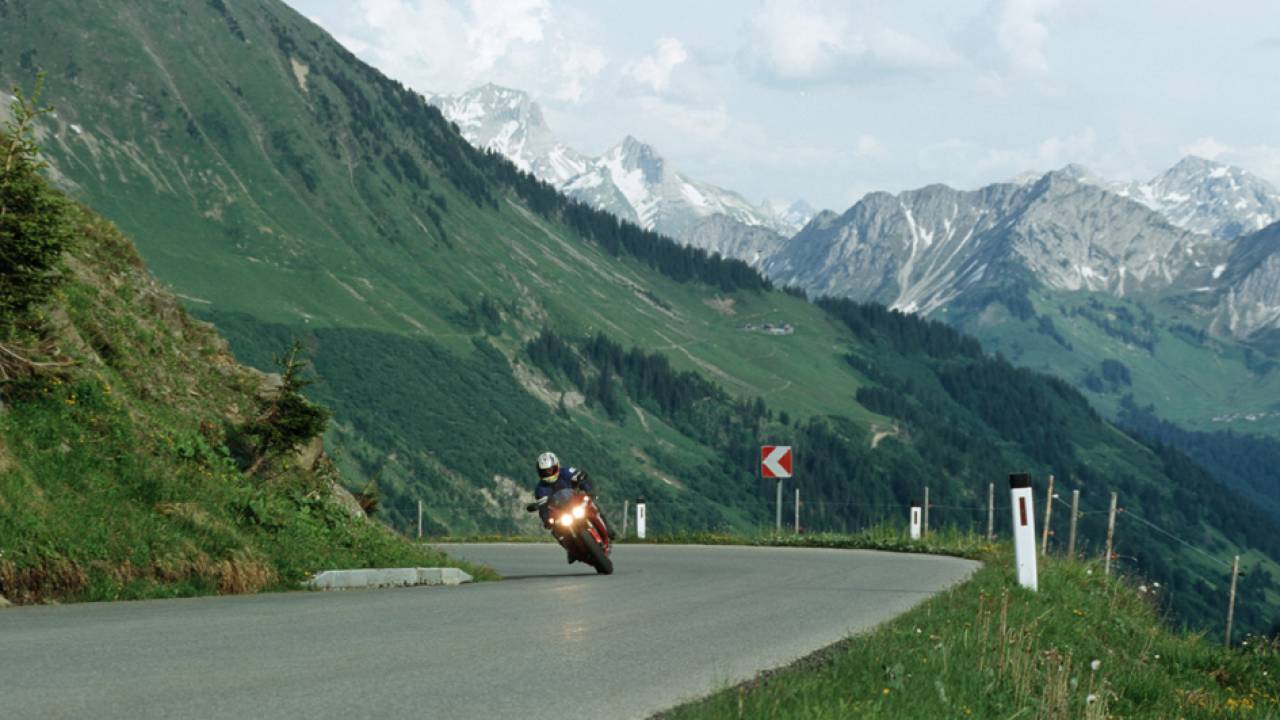 Motorcycling tours starting in Damüls
Motorcycling during your holiday
The Madlener Mountain Hotel serves as the perfect starting point for many motorcycling tours in the Bregenz Forest and the Große Walsertal biosphere reserve. Vorarlberg is an El Dorado for bikers and everyone who wants to try motorcycling.
Mountain roads, breathtaking views, thrilling mountain pass roads, … perfect for biking!
A dream for every biker
The winding roads and over 20 accessible mountain pass roads around your Damüls holiday resort make the wonderful Bregenz Forest region and Großes Walsertal biosphere park a hotspot for all bikers.
Another advantage is Damüls' outstanding location, embedded in 3 valleys and therefore blessed with many access roads. Along the way you will find several inns and pubs where you will be able to enjoy Vorarlberg delicacies as well as the gorgeous mountain panorama.
Nature lovers will be delighted by the Bregenz Forest that offers winding roads and panoramic viewing platforms for unforgettable motorcycling tours.
Most popular biking tours
Altitude, tour length or number of viewing platforms – there is more than enough of everything on Vorarlberg's roads.
Silvretta High Alpine Road
More than 30 bends run through the outstandingly beautiful alpine landscapes up on the mountain past the Silvretta-Bielerhöhe and to the delightful Lake Silvrettasee. Up here enjoy unforgettable views over Vorarlberg's highest mountain, the Piz Buin (3,312m), that seems within your reach. The possibilities for bikers are almost unlimited here: Choose between the Flexenpass, the Arlberg or the wonderful Lechtal for your return to Damüls.
The nearby Austria-Switzerland-Germany border triangle also offers cross-border motorcycling tours, like the "Tour de Swiss" (only in German):
 Tour de Swiss.pdf (758.5 KiB)
A diverse and thrilling range of biking tours is waiting for you in the Bregenz Forest and the neighbouring Große Walsertal biosphere reserve.
9-pass tour
Are you a bit of a high-flyer who wants to pass the alpine passes? Around Damüls you are spoilt for choice with 20 mountain passes. How about the "9 passes for a hallelujah" biking tour (only in German):
 9 passes for a hallelujah.pdf (963.8 KiB)
9-pass tour:
Faschinajoch
Bielerhöhe
Reschenpass
Ofenpass
Flüelapass
Julierpass
Malojapass
Splügenpass
Furkapass
During only one tour on the Sivretta High Alpine Road and through the Große Walsertal you will pass 9 mountain passes. Each and every one has its own unique appeal and invites you to stay and enjoy. Deeply absorb the massive mountain panorama.
Beautiful in every direction
No matter if you want to go on a tour to the west, the east, up north or down south, the roads in the Bregenz Forest region reward you with breathtaking views and sights along the road.
Stay at the 4-star Madlener Mountain Hotel right on the road in Damüls and you have found the perfect starting point for your motorcycling tours through Vorarlberg. Send us your no obligation room enquiry and we will immediately get back to you with attractive holiday offers from Damüls. You can also make your online reservation.