Wälderbähnle Bezau – the forest railway
In the rhythm of the past
Leisurely and easygoing are probably the words that describe this train ride the best – the Wälderbähnle is a very slow train but that is exactly what makes the ride from Bezau to Schwarzenberg so enjoyable. This is not about speed or being the first to arrive.
It's all about the flair of this old steam locomotive that will take you through the unspoilt and picturesque natural environment at a very pleasant pace – it does feels a bit like time stood still here.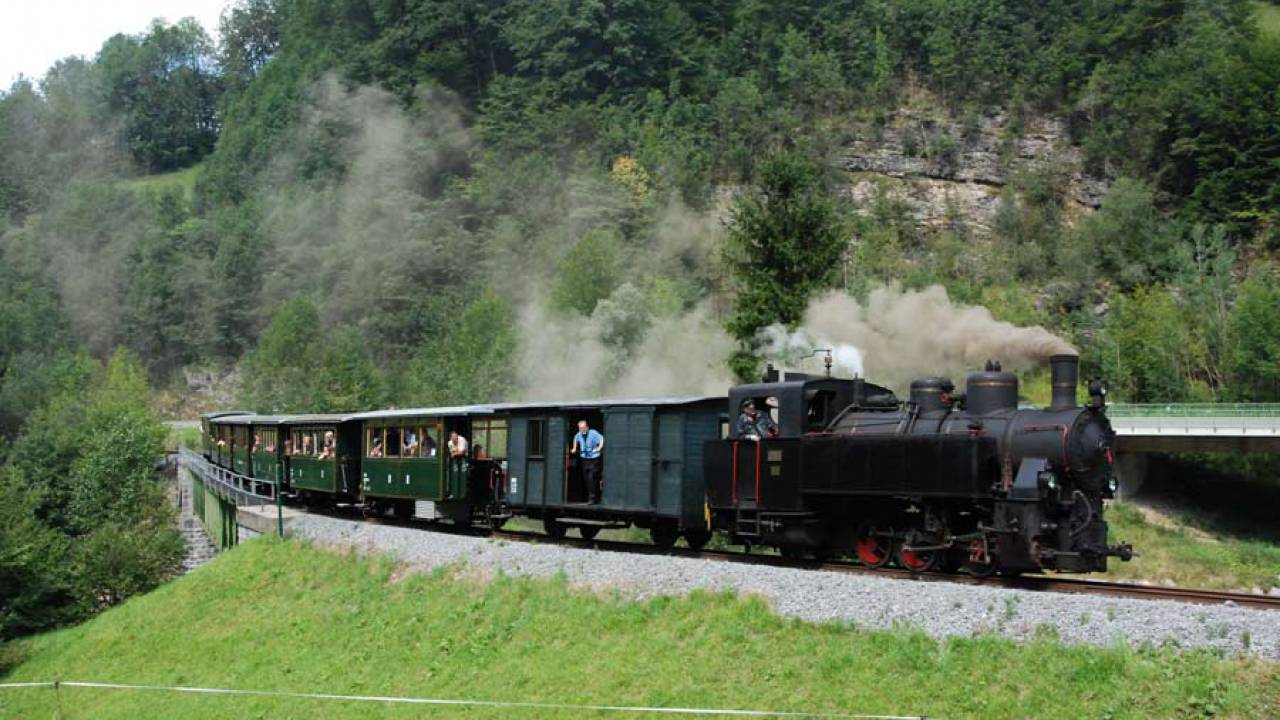 A train for wallowers and enthusiasts
The first sod was cut here more than hundred years ago, to be exact in September 1900. Back then this railway was considered to be a revolutionary way of transport and made many people's lives much more convenient and helped to economy as well. The former route led from Bregenz on Lake Constance to Bezau.
Undercuttings, rockfall and landslides made this railway's history quite rocky. It was in 1980 when the undercutting of one of the bridges and a following landslide put an end to the railways operations: other means of transport had replaced the good old steam train.
The museum railway
The last part of the route from Schwarzenberg to Bezau is still intact. In 1985 the association Bregenzerwaldbahn-Museumsbahn was initiated and made it its goal to run a museum railway on this part of the route. Two years later the "new old" train was introduced and since then the railway has been very popular with the locals and the summer guests who all enjoy its unique flair. 
Route and schedule
The route leads from Bezau via Reuthe to nearby Schwarzenberg. The train ride takes about 20 minutes and runs through wonderful landscapes surrounded by the Bregenz Forest mountains and honeycombed by little water courses. For the exact times of departure and dates for special event rides have a look at the Wälderbähnle Bezau's website (only in German).
From Damüls to Bezau
Start at the Hotel Madlener and follow the Faschina Straße road to Au, continue on the northbound Bregenzerwaldstraße road and go past the Kanisfluh and follow the road all the way to Beazu. Once you arrive in Bezau turn right, go over the bridge and follow the road to the train station.
By the way: after the train ride we would recommend that you hike your way back.
This trip and other excursion and leisure activities make the 4-star Madlener Mountain Hotel in Damüls the perfect holiday hotel in Vorarlberg. Send us your no obligation holiday enquiry or book your cosy room directly online and look forward to a relaxed stay in the "Ländle", as the locals call Vorarlberg.